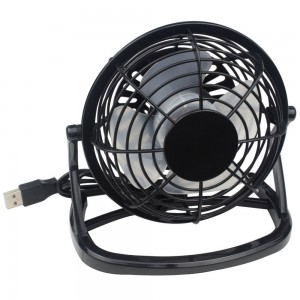 Getting the afternoon head bobs from the heat in your office?  Cool down with this mini desktop fan powered from a USB port on your computer.
Features an easy on/off switch and super quiet operation.  If you are one of those people that always has the urge to stick your fingers where they don't belong, there are no worries here as the fan blades are made of plastic.  But if you are one of those people, you should probably seek professional help anyways.
One fellow in the reviews I read notes that he uses it under his desk to keep his junk cooled off.  I don't know what's grosser – him sharing that info with the public or him actually doing that and then sharing it with the public.  In hindsight, the grossest may be that I shared that info with you  at all. But lesson learned – this fan clearly has more than one use.
Reviews
Great little fan

This little fan is great. It makes a little noise on the low setting, but on hi it produces very little at all. It makes a nice little breeze on hi for about 3-4 ft. The construction is plastic but sturdy. I haven't had any problems with the stand chipping or breaking and I frequently move it around. I will definitely be getting another.
perfect for my desk
My office is stuffy and miserably hot in the afternoon. This little fan is perfect to cool the space down and keep the air moving. It's pretty quiet too!
Good
What I need for my work desk, computer tower sits on the desk with USB ports on front. Made of plastic, but should be fine since just on desk. Good breeze, what I wanted.