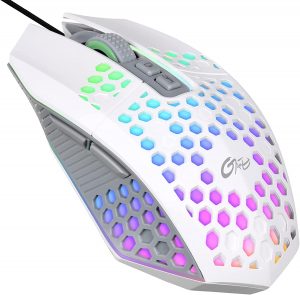 Check out the features and value of this gaming mouse!
DPI adjustable from 800 up to 8000
Customizable lighting modes
Gaming grade optical sensor
Seven configurable buttons
While we call it a gaming mouse, it can of course be used for all your 'mousy' needs.  It is stylish, it is hip, it is sleek.  It has cool led lighting.
No, it is not wireless but for me that's ok.  I hate having to change the batteries all the time and you tend to get better mouse control and sensitivity with a wired mouse.  For under ten bucks*, this is a smoking deal.  Definitely a great gift idea for the avid gamer or for yourself.
Why do we display products over ten dollars?
– Global supply issues make it increasingly difficult to source quality items under ten dollars (heard about Dollar Tree raising prices?)
– Some items we display are multiple quantities and the per item price can be below ten dollars
Reviews
I'm actually impressed

I had done quite a bit of research on somewhat inexpensive, comfortable mice, but I also wanted a mouse that wasn't boring-looking. I also wanted something for gaming, so a plain old two-button mouse wasn't gonna cut it. This particular mouse interested me because it looked fairly ergonomic (in addition to gaming, I also write and paint) so at the price I thought I might as well give it a chance.
I just got my mouse today, and I must say, I'm very happy with it so far. It works nicely, in fact, it looks much more expensive than what it actually costs.
Very Good Deal
The price for this great quality mouse is crazy generous. The mouse is about 5 inches long so it's even decent for big hands like mine, claw-grip or hand-grip (if you prefer the claw-grip I must warn you that there is a bump for the pinky that isn't great for your grip style but it's tolerable). The cord is 4-5 feet long so you don't have to worry about it unless your PC is a stretch away from your monitor(s). The lights are blue-indigo when idol and blue-magenta when active, so if you're bothered by a little bit of pink don't get this mouse.
GAMING: max out the DPI right away. There's no indication of the current DPI, but out of the 4 settings 2000 is expectantly the most sensitive, so just press the DPI button next to the mousewheel until you get the most sensitive setting.
AWESOME
Note, when this says 6 buttons, this means left-right-click, back-forward, dpi change, and scrollbar. Not horrible as I didn't get this for buttons, but just something I didn't realize.
HOWEVER: this is the best mouse under $10 EVER. The back and forward buttons do feel cheap and are a little sticky, but that's my only caveat. It's amazing, scrolling is perfect, the grip is awesome.
It feels amazing in the hand, however, the one design flaw is that it's a little sharp in the middle where your palm rests. This means you can't totally rest your hand on it, but it's still amazing regardless!