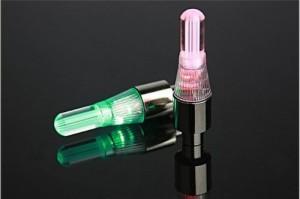 These are cool.  Little LED lights with changeable colors that screw onto the valve stem of any tire such as a bicycle, motorcyle or even a car.
Clearly, you are not going to find this item at Neiman Marcus cuz they just too cool but what an awesome gift idea for young people.
A cool gag gift as well.  We all know someone that loves their car just a little bit too much. Since these lights are only on when the tires are turning, you could put these on that person's car and hopefully they don't notice until they start getting strange looks while driving down the road.  For a couple of bucks, definitely worth the gag.
Reviews
Good for the price

Overall – worth the price.
While they are "cheap", they are also very inexpensive
They are not exactly watertight, but they should protect against mild water exposure (shallow puddles, drizzle/light rain).
Excellent for side protection at night
These little lights fit over the valve stem and only turn on at night. They flash multi-colors on the bicycle wheels so you can beee seen from the side. This is especially important when you are crossing a side street as the drivers might not see your head or taillight but they cant miss these little lights. I would highly recommend them for everyone.
Tyre wheel value cap light
These are Great. Came earlier than expected and the kids loved them, easy to place on bikes and razor scooters. but had trouble get them to light but found the white paper and removed from light and it works perfectly. Please add to directions.