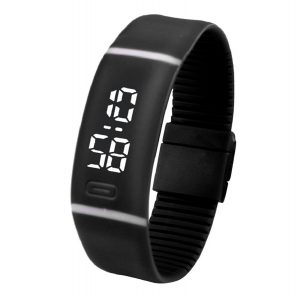 A great deal on a very nice looking and performing watch.  A perfect stocking stuffer or simple gift.  No one would dream that you shelled out less than ten dollars for this beauty.
This watch is very simple in design and construction; it will only display the time, no date or any other functions.  The strap is made from silicone rubber and features a nice magnetic clasp for security and ease of taking on and off your wrist.
A perfect gift for a jogger that likes to run rain or shine.

 Reviews
Ummmmm Wow!
I don't usually buy cheap stuff but I have broken two good watches in the past year and was tired of spending tons of money on watches.  For under five dollars I figured this might be worth it.  I was right.  Even if it only lasts six months, it was a great deal.  Think I'll buy a spare on my next order so that I have a spare on hand for when I smash this one at work too.

Good for jogging
Bought this because I'm kind of cheap and like to time my runs.  I don't like to bring my phone with me on rainy days so I wear this watch instead.  Really easy to read display.  It is nothing special but for the price I was pleasantly surprised.

I like the clasp
I noticed a few other people mentioning they don't like the magnetic clasp.  I think it is great.  Because of my job, I have to take my watch and other items off several times a day and this clasp makes it really simple.  It's also good for going through security at airport.  I hate have to struggle with stuff.  I only gave it four stars because, well, it is a cheap watch and only deserves a 4.  Would buy again though.