We ate your stick family decal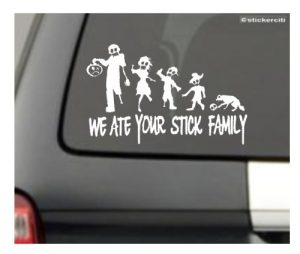 Raise your hand if are sick and tired of seeing those stick family decals on the back of every mini van in America.
Now here is something you don't hear too often: Zombies to the rescue!
Place this vinyl decal on the back of your car or gift it to a zombie lover to let the world know what you think of their stick family.
Made of quality die cast 7 year outdoor grade vinyl so you know it will last.
Reviews
Overall:
Good Quality
I was a bit surprised at the quality of this decal for the price.  Looks great on my car and I get lots of stares from my annoying neighbors who mostly all have stick family decals on their cars.  Bite me.

Super Fun!
I got two of these – one for myself and another one for my work wife.  We are both huge Walking Dead fans and are also both single.  We love zombies and hate stick families so it's a win-win for us.  Decal was easy to apply and looks great.  I don't usually put stuff on my car but couldn't resist this one.

Fun Silly Gift
I got this for my husband as a little stocking stuffer since he is such a fan of anything about zombies.  I think it was his favorite gift!  Goes to show that you don't have to spend a ton to make someone really smile.  He makes sure to take everyone outside to check out his truck and zombie decal when they visit.  Gotten a few glares from some of our friends that have stick family decals.  Nice way to tell them what we really think.