Spy Sunglasses Rearview Mirror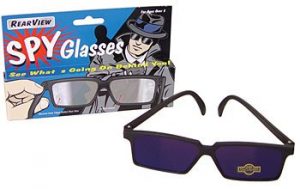 Never worry about a ninja sneaking up on you if you are wearing these Spy Sunglasses Rearview Mirror.
A fun novelty set of sunglasses with mirror on the outside portion of the lenses, allowing you to see behind you. The mirrors are not visible to an onlooker and are large enough to be able to see behind you yet small enough to still let you see forward.
Some ideas for uses of these spy sunglasses are: themed parties, kids birthday parties, cyclists and many more.
If you are having a kids party, these are inexpensive enough to hand out in goodie bags or make up some fun and unique spy based games for the kids or kids at heart to enjoy.
Reviews
They Really Work! 

The boys loved them!!! They were a big hit! We all had to try them on and see how they worked. Really cool!
Great Fun! 
These are a lot of fun even for adults, I have a pair and just bought three for my friends. Just note that the box they came in is not the one pictured above but the product is identical.
Five Stars 
Kinda square, but still stylish. Can definitely see anything behind you.