Macbook Rainbow Keyboard Cover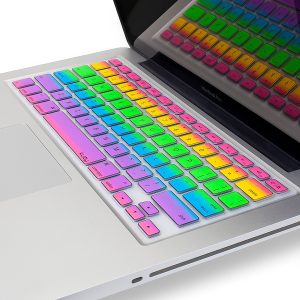 Fly the rainbow and protect your computer with this Macbook Rainbow Keyboard Cover.
This highly rated keyboard cover made of pure silicone will not only make your computer super stylish, but will also protect from spills, dirt and dust.
Easy to apply and remove for washing, this rainbow keyboard cover will be the hit in your office or classroom.

Reviews
Perfect! 

I got this keyboard cover for my Macbook Pro and wasn't expecting too much because of the low price.  Boy, was I surprised.  The cover fits perfectly and doesn't affect the keys from working at all.  I'd give this more than five stars if I could.
Fun keyboard cover! 
I work at a small publishing company and we have a pretty eclectic group of people working here.  I ordered this keyboard cover and came into work one morning with it installed.  Coworkers dropped by my cubicle all morning to check it out and ask about it.  Now there are three other people in my office with the same keyboard cover.  I guess I started a trend!
Solidarity 
I bought this because recently a friend of mine came out and was having a hard time, especially with her parents.  I've been supportive of her (of course) through this whole ordeal but wanted to really let her know how I felt.  She came over to my place to study after I'd installed this cover and I opened my laptop.  She started crying right then and we hugged.  It was a simple gesture on my part but it really helped her know that she isn't alone.  Now most of our friends that have Macbooks have installed one and my friend definitely knows she's not alone anymore.