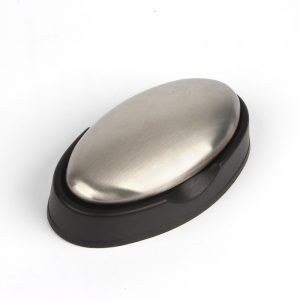 Very cool!  A perfect gift for any cook in your life.
This stainless steel soap will quickly remove strong odors from your hands like fish, garlic, onion, etc.
To use, just run under cold water and rub the bar on your hands for around 30 seconds.  Presto!  The smell is gone!
The bar is hollow so it is not too heavy.  And it comes with it's own holder for convenient storage right by the kitchen sink.
Reviews
This actually Works!
I use a lot of garlic and hate having the smell linger on my hands.  This odor bar is a miracle!  Just make sure to keep good contact with your hands and it does take a little while (about 20-30 seconds) but works better for removing odor then normal soap.

 Amazing!
Amazing that it actually works!  I was skeptical but read the reviews so thought I'd give it a try.  Hands down the coolest kitchen gadget I own now.  Everyone that comes over and sees it is always asking what it is.  I've probably helped sell a dozen more of these to my friends lol.  The only reason I gave it four stars is the holder that comes with it is pretty crappy.  It works, but the picture makes it look a lot more sturdy than it is.

How?
I can't figure out how this thing works but it does.  Something about negative ions or amino acids or…..  Anyways, this thing removes stink from your hands like nobody's business.  It is a permanent fixture beside my sink and I've bought a couple more for friends and even my mother in law.  I always wash my hands with soap thoroughly after using it as I'm not sure if it leaves stuff on your hands and I can't see how it could actually clean them…