Mini Stealth Remote Control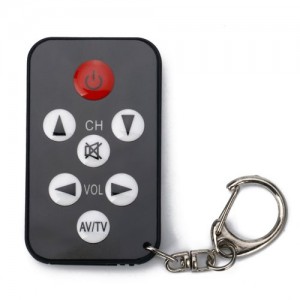 At first glance, this may seem like just a really small remote.  Well, I guess your first glance is right.
But there are many things this tiny little remote can be used for.  Since it is so easy to program and is so small, it can be used anywhere.  Imagine annoying the heck out of someone watching TV by changing the channel or muting the volume while the remote is hidden in your hand.
Or ever been to a bar or restaurant where the TV is too loud, or too quiet, or playing something you're not interested in?  Simple, just program this little guy to run their TV and do what you want – without being noticed.
Since it is so small and comes ready with a keychain hook, you can keep it with you no matter where you go.
Reviews
awesome remote 

I got this remote because the tv at a local restaurant is always too loud. It works perfectly for noisy tv's in bars and restaurants!!
It does work! 
Okay, I ordered it 3 days ago and got it today. Fantastic shipping. I followed the directions and it did not work. BUT! If you hold it down for between 10-20 seconds it does!
Great 
Great for pranks. I've had so much fun with this. The remote has worked on 19/21 tvs, it's so much fun. Average shipping time.