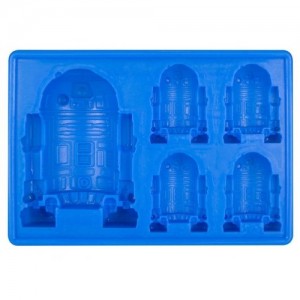 Star Wars fans rejoice!  An amazingly detailed ice cube tray featuring our little robot friend R2D2.  Made by Kotobukiya of Japan, no detail was skipped in the making of this form.
The form is made of silicone so is great for ice as well as food items like chocolate, jello and the like.  If you can pour it in, chances are it will work.
Features four small versions as well as one large version of the form.
Reviews
Great Ice Cube Trays 

Ice Cube Trays work great. Flexible enough molds that I can get the ice R2s out without breaking them. Boiling water before making ice with them will help clarify the ice R2s that come out.
Very fun 
These molds are great fun and look especially handsome in whiskey. For some reason, they seem to melt quicker than normal ice cubes but they are totally worth the short lived coolness. The largest of the molds is my favorite.
Great detail, the silicone is firm enough to hold 
Great detail, the silicone is firm enough to hold the liquid in place while freezing, but pops out easily. You do have to be careful around the feet, because it's so thin at that area they can break easily.