Happy Birthday Toilet Paper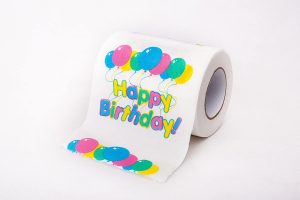 This Happy Birthday Toilet Paper is the perfect decorating addition to any birthday celebration – whether it is for a child or adult.
Who knew that balloons and streamers weren't enough for birthday decorations?  Pop a roll of this on in the guest bathroom and enjoy the festivities.

Reviews
Perfect Addon 

On a whim, I bought this happy birthday toilet paper and everyone just loved it!  Everyone that came out the washroom was smiling and saying what a cute idea it was.  Definitely a hit at our party.
Fun Fun Fun 
I saw this toilet paper online and just had to grab it for my son's birthday.  All the kids seem to really like it and it was a huge hit with the parents.  My party probably ended up helping to sell a bunch more rolls.  lol.
Good decoration 
Bought this for my moms 60th birthday party that we hosted at my house.  My mom really loved the extra touch with this toilet paper.  It wasn't the best quality paper in the world so I ended up leaving another roll of normal stuff out for picky people.