Stainless Steel Travel Mug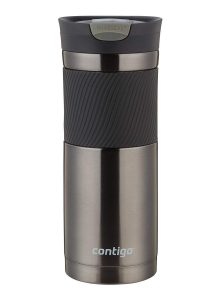 Keep your coffee or tea hot for up to six hours with this convenient 20 ounce travel mug.  Or keep your cold drink cold for up to 24 hours!
This travel mug is double walled for high insulation and is made from food grade stainless steel – not junky steel or plastic.  This mug is practically unbreakable!
The lid features a double rubber gasket, ensuring this mug won't leak.
Driving?  No problem.  This travel mug is designed to fit into virtually all automobile cup holders.
And it's dishwasher safe!
Reviews
Perfect Size 

I think this travel mug is the perfect size.  I had a 30oz mug before but I never drank all the coffee in it and it was a pain in the butt in my car.  I had to move my smartphone mount just to put it in my cup holder.  This one fits perfect and is just the right size for me.
Works Great 
The listing says it keeps hot beverages hot for six hours.  Sorry, but I disagree.  I'm usually on the road for over ten hours a day and don't drink a lot of coffee.  On my drive home, after nine hours or so my coffee is STILL HOT.  Maybe because I always pre-warm the travel mug with hot water before I pour in my coffee?  Not sure, but for under ten dollars, this is the best travel mug on the market.
Indestructible! 
I work in construction and need my coffee in the morning.  I have dropped this travel mug ten, fifteen, even twenty feet more times then I can remember and other than a few dents and scratches, it's still in perfect working order.  You'd think the lid would have broken by now but nope, still working great and no leaks.  I don't suggest you try it but if you are clumsy like me this is a great mug to have.