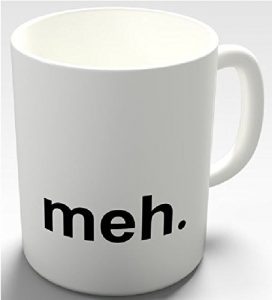 Tell them how you really feel with this hilarious mug.
Are you one of those people that get up in the morning and just feel…. Meh?  Or maybe you know someone afflicted with MMS (Morning Meh Syndrome).
Grab this cute and funny mug for yourself or anyone you know that is a Meh kinda person.
Reviews
Overall:
Cute Cup
My daughter says this all the time.  I mean at least ten times a day.  I don't think she even knows she is saying it.  Now she does since I got this for her birthday.  She absolutely loves it and protects it like it is her child.  No one else is allowed to use it.  And thankfully she says 'Meh' a lot less now.

Bought this for Work
Some days I just hate going to work.  Who doesn't?  Now when I'm having a crappy morning, I just pull out my trusty Meh mug and set it on my desk.  Everyone knows to leave me the hell alone.  An added bonus is that no one steals it out of the kitchen since it's the only one in the office.

Five Stars
It's a mug.  Not too much to say.  Bought it as a gift for someone that thought might enjoy it.  I was right, was a big hit.  Fun, useful and inexpensive all at the same time.