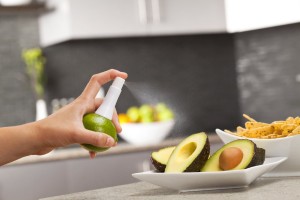 For healthy eating, this Quirky Citrus Sprayer is a must-have.
Simply roll the lemon or lime on the countertop a few times (to soften and release the juices), insert the citrus sprayer and press to easily spray your foods with a natural stream of fresh citrus flavor.
I bought one of these because I love a light citrus taste on some of my foods, but always found I made it too strong.  With this sprayer, you not only get pure, fresh citrus spray, you can easily control how much spray is delivered to your food.
Like I said, for anyone interested in healthy eating, this gadget is a must have in my opinion.
Reviews
GREAT PIECE REALLY WORKS!!! 

I was extremely surprise when I go this item!!! Didnt really think it was going to work. But after I opened it and tested it the item works great!!! Tip: Just be sure roll the lemon on a countertop with the palm of your hand so the juice is broken down inside the lemon making it easier for the spray to capture it. Once the spray is in the lemon(I insert it through the side of the lemon not the top) just give the lemon a all around squeeze to get more juice.
Astonishingly effective 
I bought this as a lark, expecting it to not work. I had an Amazon Gift Card and needed to use up the last five bucks on it. So I thought, "Sure, why not?"
To my amazement, it actually works, and not only works but works well. It's seemingly well made (as well made as cheap plastic can be.) and it takes little effort to secure to a piece of citrus.
It takes a few pumps to get the squirt action going, but once it does, the spritz is great.
My only gripes are that it could be made out of better material (but for five bucks, what do you expect?) and the spray isn't full and completely atomized sometimes (the first few sprays might be big drops) but really, who cares?
Great product, totally amazed that it works, would definitely recommend it for anyone.
Use on lemons for fish, avocado, hollandaise. Use limes for potato chips, fritos, tortilla chips, salsa. Use on oranges for things which might require orange flavor… You know.
Amazed! 
I was skeptical at first but it's less than $10 so I decided to go for it…to my surprise, it works! It's very easy to insert into the fruit and will start spraying instantly. My 5 year old nephew loves it, anytime someone comes over he will run and grab it to show it off by putting it in a lemon and squirting it in his mouth. After awhile you may have to role the fruit on a table or other hard surface to get the juices flowing again but then this little thing will start right back up!