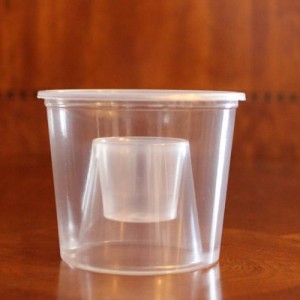 Jager bombs.  Vodka bombs.  Whatever bombs.  These Jager Bomb shot glasses are the perfect choice for your adult party.
Great party idea.  Fill with your booze of choice and your chaser of choice and you're set.  Center is about a standard sized shot, while outside will hold about one third of a can of red bull. So this is not a wimpy shot.
While these are meant to be disposable, most people comment that they are easily washable and even dishwasher safe if you put them in top tray and don't turn on the heat setting.  Or if they get crushed by partygoers, it's no big deal since they are so inexpensive in the first place.  Plus, chances are you won't remember nor care in the morning.
NOTE: Price is for a pack of 50
Reviews
Perfect 

Pretty much perfect, I had hard plastic re-useable cups that kept breaking before this, these cups are great, flexible plastic. They are intended to be disposable but I was able to dishwasher some without issue just don't use the heated dry feature or they melt.
Party!!! 
these are great for parties, jager bombs or vodka bombs. and u dont have to worry about washing a bunch of shot glasses.
Better than others 
Notice how the inside is up higher. This allows for more mixer to be added to the outside of the liquor on the inside (red bull in my case) the ladies like it more than the last ones I ordered. They sat flush with the bottom. You can wash and reuse these at home. Or not feel bad to toss them if you are not at home.