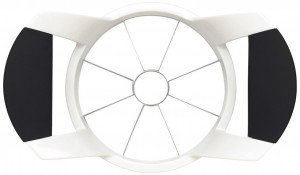 There are a gazillion apple slicers on the market today.  Most of them suck.  This one doesn't.  That's about the summary of this apple slicer/corer from New Star.
Featuring stainless steel blades and large, oversized handles for easy handling of any apple, this slicer should do the trick for you for years to come.  Dishwasher safe for easy cleaning as well.
If you've got kids, cutting and coring an apple or two for snacks is a great healthy alternative to feeding them junk food.  I slice apples and put them in my lunch almost everyday.  For some reason, I always think a sliced apple tastes better than a whole one.
Reviews
bought 3 different apple dividers; this one was best 

I recently needed to cut a mountain of apples for a party. I knew that not all apple dividers were created equal and I wanted to have the best one. So I went out and bought three different ones to test before the big day. I wasn't crazy about the OXO's looks (I preferred the sleek stainless steel model I found for triple the price at Williams Sonoma), but in terms of utility–and honestly what other criterion should an apple divider be rated on?–the OXO divider was hands down the best. It slices the apple into 8 slices rather than 12. The fact that it cuts fewer slices makes the divider easier to use. Also the center hole for the core was just slightly larger than on the other two models I tried and that made it so that I needed to do fewer touchups with the knife on the OXO sliced apples. Also, the greater ease of cutting made it easier to cut straight slices, rather than wavy, uneven ones. The rubber handles are good because if you must cut a lot of apples rather than just one, the slipperiness of the juice can become an issue.
Durable, easy to use–apple consumption way up at out house! 
I love this thing! It's durable, easy to use and clean, and it's offset design protects whatever surface you are using it on.
Since we bought it we now buy twice as many apples as we used to. The kids now snack on fresh apple more often and junk food less often. This alone has made this one of the best return to investment ratio products I've ever bought!
(My kids are middle-high scholl age–I'd be a ltiile carefuil with younger kids using it–the blades are sharper than they look.)
I just orderd a second one to keep at my office for quick & healthy afternoon snacks!
Frankly, I feel no home should be without one of these!
Makes it easy! 
Daily use for months now without a problem. It works great on apples and pears, cuts them to 8 equal pieces. The blade side on mine is really sharp, best cleaned with a dish brush (I've cut myself a couple of times on it.) Can't say I'd recommend letting the kids use it. The only criticism I have is sometimes it's hard to remove the core at the center, but otherwise it works really well. In response to one of the other reviews: you should check to see if the stem and the flower end line up to minimize capturing some of the core in your slices. This is especially true if your fruit is somewhat odd shaped–you may have to line up your stroke.