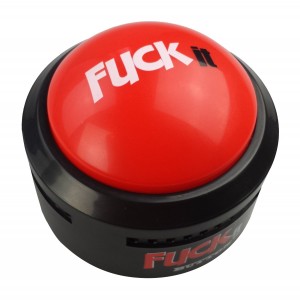 Having a frustrating day at the office?  Instead of wasting your precious energy between coffees, just take a whack on the f*ck-it button and let it release the stress for you.
Armed with ten funny and outrageous sayings, complete with background noises this is sure to be a hit in your office (if they are not uptight a**holes) or as a gag gift.
Examples of the saying on the f*ck it button:
Laid back surfer dude: "f*ck it dude"
Goofy: "F*ck it.  I said a bad word"
"Abadaba f*ck it"
Reviews
Made A Grouchy Old Man Very Happy This Christmas 

Yes, it's a silly little thing .. but it made one older family member who gets frustrated trying to use his computer , and who uses the "F" word
a bit more than necessary while trying to operate his electronic devices, very happy this Christmas. Out of all the gifts he received this was
his favorite present and now when he has to attempt to do anything on his computer or other electrical devices that get his
blood pressure soaring he pushes the red button and laughs his head off at the different sayings. It has no doubt contributed to lowering
his blood pressure and given him a lot of laughs in the process. Now before he sits at his laptop he makes sure he has his little red button
next to him .. and I must admit it's given me a few chuckles as well. The smiles and laughter he's gotten from this were worth the price alone.
This product is a bit juvenile, but a load … 
This product is a bit juvenile, but a load of laughs. The product was exactly as described; a red button about three inches across that says one of several crude phrases when you push it. The volume is adequate without being too loud. It seems to be decently well made.
they loved it, everybody cracked up 
I bought this for my fiancee and my brother-in-law for Christmas, they loved it, everybody cracked up! This is hysterical with multiple phrases.