Car alarm remote hidden video camera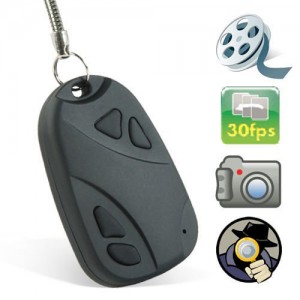 Geek time!
Most of us carry around a smartphone that will record video but who do you know that has a video camera hidden in what looks like a car alarm remote?  This is a great way to secretly video someone or something and would make a great gift for that geek in your life or someone that loves neat little tech gadgets.
Don't expect high definition recording from this, but at 720 * 480 pixels and 30 frames per second, it is pretty darn good for the price.  I will for sure be buying one or two of these, at least one for myself and if someone is lucky, they might get one as a gift.
If you're interested in this item, check out a similar listing we have: Mini Hidden Camera USB Stick
Reviews
#3 808 Camera 

Maybe I just got lucky but this is a #3 – one of the better knock-off, no-brand 808 style Chinese Junk Cameras.
720×480 avi, 30fps, 352.8 kbps audio, SUNPLUS microprocessor. In the world of 808 cameras, these specs make all the difference.
Works and records video, audio and pics better than you might expect from a $10 item.
Fun Cheap Toy 
The pictures are 1280×1024 JPG with quality of 67/100.
The videos are 720×480 JPEG format @ 30fps & 3802Kbps with PCM format audio @ 16KHz & 256Kbps all inside an AVI container.
Photo & video quality is terrible in low light but good in well-lit environments.
Audio quality is poor and only really useful for conversations within 5ft in my opinion.
Great spy camera 
Great spy camera, simple to use. Quality of video is quite impressive as well. You can adjust the time & date stamp, after your first video has been recorded and you connect the camera to your computer, by editing the text file shown.