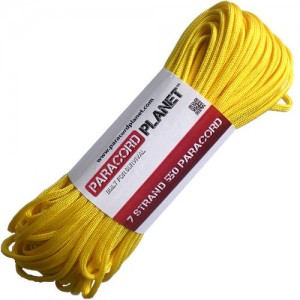 Serious hikers, campers, fishermen, outdoors people and survivalists wouldn't be caught without a length or two of Paracord.
This 7 strand cord is rated at 550 pounds and is lightweight, rot, mold and mildew resistant.
Anyone venturing deep into the outdoors would be wise to carry this with them for a huge number of uses.  If stranded, this little package could be a lifesaver.
Reviews
Fast shipment, Good quality 

This is the first paracord I have purchased other than cheap imitation chain store variety. After reading several other rewiews It seems that this is top quality paracord. We will be using it for Scouting purposes. I will buy from this supplier again.
Can't beat quality or shipping! 
This only took 2 days to receive and the cord itself is as good or better than any other paracord I've purchased in the past. Great business, and I highly recommend this seller.. I know I'll be back for more purchases!!!
No problems with this product 
I have no complaints about this product. It's a great value at this price. It cuts easily and the ends can be melted to prevent fraying, but you have to do it immediately after cutting. Doing so may make it difficult to push through a cord lock (my purpose was to make my own "Lace Locks"), but a BBQ skewer helps push it through.