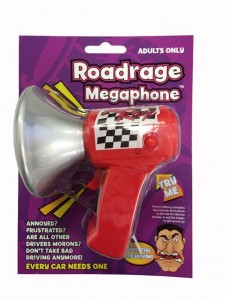 Getting the road rage but just can't bring yourself to voice it yourself?
With this cool unit, you don't have to.  Pre-programmed with six sayings, just press a button and you're on your way to quenching your road rage thirst.  Press the button and you will feel instant satisfaction!
There is even a 'clean' and 'dirty' switch – turn it to 'dirty' and all the sayings will include the F bomb, on 'clean' they are PG-13.
Reviews
Perfect. 

The roadrage megaphone is a perfect joke/gag gift for the right person. Its pleasantly vulgar and playful. Its just what I wanted to get this person as a joke gift, he drives like a maniac and swears at people while driving. The package arrive within the ETA, and it was pristine in the original packaging. It even had a plastic tab to pull out to activate the battery
Tooo funny! 
If you spend a lot of time behind make-up applying, hair brushing, and cell phone yakking morons, then this is made for you. It instantly lowered my blood pressure and makes me laugh, instead of yelling. All you do is push the button and let the megaphone do the work!
Hilarious!! 
I gave this to my sister-in-law for her birthday – she's a road rager. She thinks it's the funniest thing she's ever had – absolutely loves it. I don't know about its 'educational' value….I don't think that's its purpose :); it's so, so funny.