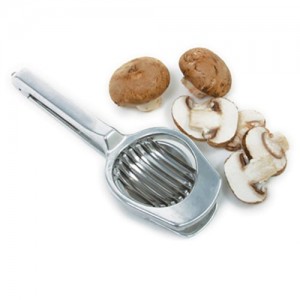 This multipurpose Mushroom /Egg slicer is well made and easily and even cuts many items such as mushrooms, eggs, pickles, radishes, olives, strawberries and more.  Basically anything that has a strong enough core and is the right size can be cut with this slicer.
Using blades rather than wires normally found in egg slicers, this unit will stand up to the task.
The body is made of aluminum and the blades are made of stainless steel.  While it is suggested to hand wash the unit, many people have commented that it is easily dishwasher safe.
Reviews
Yes! Finally! 

It's about time! I have been wanting this for a long time. This slicer is nice and sturdy. It has blades, not wires!
I have been wanting something to slice mushrooms with. It always seemed logical to me that an egg slicer should be able to slice mushrooms, as well. I would buy egg slicers at the store only to have them break on me with the very first use. I never had even one make a mark on a mushroom. A mushroom! We aren't talking about rocks here. I can't imagine any of those pieces of junk cutting eggs either.
I ordered this one and I am happy! It is good and solid- metal with blades! It is much bigger than the grocery store garbage, too.
Did I mention that it has blades?!
I look forward to many years of service from this gadget.
No Wires!! 
I've been wanting this slicer ever since I saw it in a high-end kitchen store for $25. After breaking my umpteenth wire-type slicer, I finally broke down and ordered this one – Fast shipping! and it's really well made. The slices are a bit thicker than with the wire ones I think, but it won't break! I sliced huge strawberries by standing them on end. It worked great. Another advantage – it's much easier to clean than the wire type – so far I am really happy with the quality and the design.
Best thing for sliced mushrooms 
I hate egg slicers! They are no good with mushrooms, I have broken at least a dozen 'sturdy' ones in my quest for perfect mushroom slices. I am a neat freak and I like even slices, I think that my food looks so much prettier and appealing, it would take me forever to get even slices with a knife. I use this nifty little gadget for everything that will fit in it. It makes quick work of strawberries and kiwis for fruit salads, does perfect egg slices, and of course mushrooms.
I think it works so well because it doesn't use those skinny wires that you see in egg slicers, its equipped with good sturdy blades that makes quick work of very large button mushrooms. Seriously this thing is addictive, just pop in and press and perfect slices every time, it makes doing a big pot of mushrooms possible in minutes. I also like that it stays shut with a little locking mechanism on the bottom so the blades aren't exposed to questing fingers in my kitchen drawer. I bought this over a year ago and am now reviewing it after pretty heavy use, it hasn't tarnished at all, but I usually hand wash it. If this thing ever goes dull (God forbid) I won't hesitate to buy another just like it. I love it. Seriously, get one.