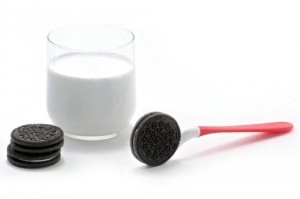 Have you ever experienced the horror of dipping your cookie in a glass of milk only for it to slip from your grasp and slowly sink to the bottom of the glass like DiCaprio in Titanic?  If so then you know how this can easily ruin your day, your week, or heaven forbid – your life.
Not to worry, with this fantastic tool, the ease of dipping your Oreo or other delicious treat into your liquid of choice can be fun and worry free.  Made from space-age materials (plastic), this puppy should last you a lifetime.  And it is dishwasher safe if you are lazy.  An added bonus.
Reviews
Awesome

My Girl no longer goes five knuckles in…. She has the cookie spoon. I so love now I can drink her milk since her nasty grubby hands weren't in it.
It's simply awesome!! Adding the cookie is fast and easy
Why did it take so long to invent this?!?!?
It's simply awesome!! Adding the cookie is fast and easy, then I dunk it for 30-45 seconds.
Remove and the cookie is completely soaked though.
Before this I only had two options 1) get fingers milky and stickey. OR 2) leave finger out of the milk and have a partially soaked cookie with too much crunch at the top where my fingers were.
Love this thing!!! Now I need one for the wife!
LOL we only have a package as a treat a few time per year but we still love this thing…
Dumbest, most useful product.
Bought this as a stocking stuffer for my fiancé, who happens to love oreos – and is a little haphazard on the dipping. This solves the issue – no more fingers in his milk, and way less milk drippings all over the table/floor/his clothing.