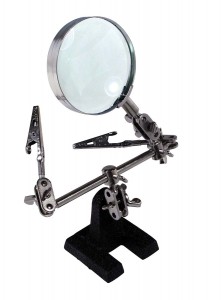 The Helping Hand magnifier is an amazingly useful tool for anyone who works with small items and needs not only a helping hand but be able to see small parts better.
Great idea for anyone who works or hobbies in electronics, jewelry, model building or more.
The magnifying glass and clips both move and adjust to most any angle, meaning you can move your work instead of moving yourself.
For the price, this is a great help and would definitely be welcomed into anyone's home who needs to work on small objects.
Reviews
Better Than Expected 

I bought this for use with some hobby electronics soldering. After reading the reviews I figured I knew what to expect and for a little over $6 shipped (gotta love Amazon Prime) I took the leap. Some people complained that it was not assembled and came without instructions. Mine was ready to go and completely assembled out of the box. Others complained that the magnifying glass rattled around with the parts and was scratched. Mine was wrapped in plastic and cardboard and as I said earlier, it was completely assembled. Others complained that it is "tippy", and I fully intended to mount it to a board and make a little portable soldering station. I don't find it "tippy" or uneven at all. For what I will use it for it is perfect. It totally exceeded my expectations given the reviews. I hope everyone else who orders this has the same experience I had.
PAID FOR ITSELF IN AN HOUR 
I love this little helping hand — can't believe how handy it is. As a jewelry designer, it's a must have for holding bracelets while I add parts to it. The adjustable arms work perfectly so that I can customize to the size of the item I'm working on. I have found it just as helpful with necklaces, because of how wide I can adjust the clips. Also, the clips are quite strong, so no chance of anything falling off.
When it came in the mail, it was totally assembled, however, the nuts were so tight, I had to ask my other half to loosen them so I can move everything as I need. He fussed at me for spending so much money on another tool. He thought it cost between $30 and $50. He quit fussing when I told him how affordable it was. It is definitely worth the price.
In order to keep it from tipping over, I keep the magnifier toward the back to give it balance (that's all I use the magnifier for). That gives it enough weight to counter the weight of the jewelry I'm working on. I have a magnifying lamp that I use for better vision, so the magnifier serves no other purpose than for balance — but it works perfectly. This tool has ended a lot of frustration, making my work much more enjoyable.
I'm planning to buy a second one so I can have two pieces in progress at the same time.
Best Hobby tool ever! 
My boyfriend and I have many crafty hobbies, he paints figures for Warhammer and Dungeons and dragons and I sew knit crochet and make jewelry and we both find this tool SUPER useful! It clasps onto things so that your fingers don't get as tired as they would if you had to hold a bead or a small miniature piece. and the magnifying glass makes it so that he can get into greater detail with his figures. The base is sturdy so it doesn't fall over easy and you know that your project is secure. I love this product. A must have for any Crafter!