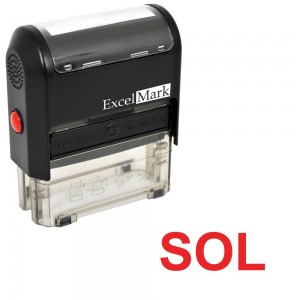 I would love love love to work in the purchasing department of some company and be lucky enough to have this when someone requisitioned something like a new office chair.
Just write across the requisition "Sorry but you are" and add this large, official looking SOL stamp in bright red. Hand it back to them and watch their faces!
Perfect gift for anyone that works in an office.  Check out the other funny rubber stamps we feature on here and maybe buy them all for a great time in most any office!
Reviews
Good Item 

So Funny 
My boss has a pretty good sense of humor so I got him this stamp as a gag gift at Christmas.  The funniest part was he had no idea what SOL stood for so I had to explain it to him.  In front of all the staff.  He now proudly keeps it on his desk and actually uses it when a requisition gets rejected.  It actually makes the fact that your request got rejected a lot more light hearted.
Be careful – might bite you in the ass 
I bought this as a gift for a lady in our purchasing department.  She thought it was hilarious but is too nervous to use it.  Unless it is an item I've submitted for.  I fear she rejects more of my purchases now because she is having fun teasing me.  Kind of backfired on my ass.