Mylar Emergency Blankets (10 Pack)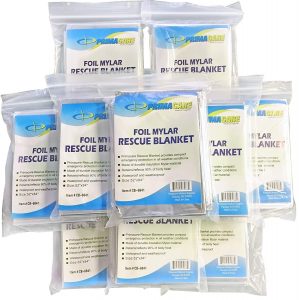 Way back when these were called "space blankets" and cost a small fortune.  Now these mylar blankets are inexpensive and there is no excuse to not have these anywhere they may be required for survival.
Backpackers, cross-country skiers, snowboarders, snowmobilers, even in your car's glove compartment are good places to store a couple of these potentially life saving blankets.
When folded, these blankets take up very little room and weigh very little so is a simple and common-sense emergency item to carry almost anywhere.
Reading the reviews, there are people that actually use them to cut their home's energy bills as well.  Since they easily reflect heat in (or out), this can be an easy, inexpensive and effective way to cut your heating or cooling costs as well.
Reviews
Street Living 

There is a group here in Milwaukee, WI who help the dear people living in the street. It's called Dr. Bob's Under the Bridge in Cedarburg. They go out under the bridges and pass these and other items. When you think of laying on the cement all night, these blankets do help these poor people.
Thank you for having these available at such a reasonable price. God bless you.
Good for emergency blanket as well as for insulation floor for tents. 
This is a good value for a ten pack of Mylar blankets. They are thin but really hold the warmth in. We also use these sheets to spread on the tent floor before laying our sleeping bags on them – it seems to help in preserving the heat inside the tent by forming a barrier from the cold of the floor. We have tested this set up in multiple camping outings in cold weather.
You may never need these, but why not have them? 
They used to call these things "space blankets" back when space exploration still excited people. They're a lot cheaper now! I put a couple in the glove box of both our cars, a couple in the tour pack of the motorcycle, and gave our kids some for their cars. They never go bad, they can sit there for years until you need them – if you ever do. They take up almost no space The seller delivered them within a couple of days, well packed and ready to use.