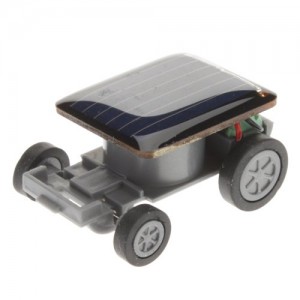 Billed as "The world's smallest Solar Powered car" – this seems to fit the bill.  This is a tiny but great fun toy as well as educational tool.
The car is only about the size of a quarter but in full sunlight or with a powerful flashlight, this little puppy can really fly.
Teach your kids about the value of solar power while they are enjoying themselves.  Education like this is priceless.  But in this case, it is way less than ten bucks.
Reviews
pretty funny stuff!! 

A technology so valuable demonstrated so simple!! i like this product it is half my thumb size which i never expected ???? but yea looks funny and well made product. Needs good sunlight and once it has you can hardly control it ???? u need to be careful that u don't loose it(beacuse of its tiny size, might fall into a pit or pipes).
Inexpensive, educational and fun 
I bought these toys for goodie bag gifts. We took one out to test and at first I was very disappointed, could not get it to run in any type of artificial light. Then we went outside and the car just zipped along. My five year old LOVES it and has fun watching it speed up then stop in the shade. In direct sun it can actually work a little too well and will go so fast it wheelies and then flips over. But I view that as a positive as that means I don't have to chase it too far.
Is totally precious and a fun little purchase 
Is totally precious and a fun little purchase! Price is super cheap and the tiny little thing works as described ????