Cheers to 21 Years Shot Glass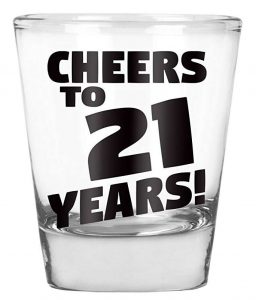 A great addition to a special day!  Grab these shot glasses for your friend or loved on who is turning the magic age of 21.  These are good quality shot glasses, made of durable glass and are dishwasher safe.
These are a good size, each glass holds up to 1.75 ounces of your favorite booze (or other liquid if you are so inclined).
A definite must-have for any 21st birthday celebration
NOTE: Price is for a set of two shot glasses
Reviews
Overall:
Good Quality
I was surprised at the quality of these shot glasses.  I was expecting really thin glass and lousy lettering since these are a novelty item but these look like they will stand up for a long time.  Now I just have to get invited to more birthday parties to make use of them.

Lots of Fun
Got these for my girlfriend's birthday.  She was surprised and super happy that I got such a unique little gift.  Unfortunately these work a little too well so I can't tell you how the night ended but I hear we all had a good time.

Warning!
Warning!!!  These shot glasses work too good.  We used them at a buddies party we had at his house and just to warn you – these hold a decent amount of booze.  We all ended up getting a little more smashed then expected.  But you only turn 21 once so it's all good.  Just remember that these are like a double shot if you fill them to the top.