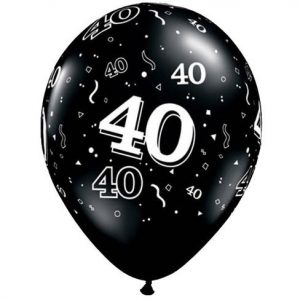 If you are in charge of decorating, these 40th Birthday Balloons will be a hit on this special day.
Decorated with the 'big four oh' and confetti, these balloons are made of latex and stay very black even when fully blown up.  They are roughly 11 inches when fully inflated, which makes a nice size for decorations.  Ideally get them filled with helium to make a floating decoration.
The perfect addition to any 40th birthday party.

Reviews
As Advertised 

What can I say – they are balloons.  They came exactly as advertised and looked great at my husband's birthday bash.  I took one star away as one of the balloons leaked.  I didn't really need all ten anyways so it was no big deal.
Good Quality 
I didn't expect much for the price but I was pleasantly surprised with the quality of the balloons and how good they looked.  I had them filled with helium so they would float and arranged them in a bouquet with other birthday decorations.  Definitely recommend.
Five Stars
I decorated my friend's birthday celebration and these balloons were a big hit.  A couple of people even took one home at the end of the night.  If I ever decorate another 40th, these will be on my list to purchase.