Telescoping magnetic pick up tool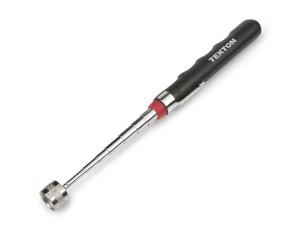 We feature a number of great tools for the mechanic in your life on this site and none is more useful when it's really need than this telescoping magnetic pick up tool.
If you've ever dropped a nut or bolt down into the recesses of an engine with no way for your fingers to reach it, then you know how important this tool is.
This pick up tool goes from 6.5 inches all the way up to 30 inches and has a lifting weight of up to 15 pounds.  It is chrome plated to resist rusting if left in the rain.  It has a removable collar to aid into getting into tight areas without the magnet attracting to the side.  And it has a soft non-slip grip handle so you'll be sure you don't lose tool along with what you are trying to retrieve.
If your friend or loved one works on cars or anything like that and they don't have one of these, your gift will not only be loved by them, but guaranteed to be used all the time.
While you are at it, you might want to pick up these companion tools:
Reviews
This item is extremely handy!! 

I'm only 5′ 2″ tall, so a lot of things that are waaaaay at the back of the grocery store shelves are impossible for me to reach. So I bought this item so I can easily grab canned goods from the very back of the shelf.
The tool extends to the width of the grocery shelf, and all I have to do is extend it and put the magnet on the steel can…and just slide it to within my reach!! It is really VERY handy…since being short when the grocery store shelves are almost bare in the evenings really is a nuisance! Really a wonderful investment for my short height!!
I am SO glad I bought this. It will also come in handy when hunting for magnetic rocks when I am with my geology group. This tool has MANY uses…and I just named only two!
Very good product 
Quick shipping and the magnet works as expected. Have already used it once without issue. I especially like the shield around the end of the magnet that minimizes unwanted pickup of objects.
It's a great little tool and worth having several stashed around your home and workspace 
his is a great tool to have on hand- especially if you do a lot of odds n' ends projects. I am forever dropping a screw behind the stove, or having to fish something out from under or behind something else. This is a great little gadget to have handy- I'm thinking of getting a couple more so I have one in the kitchen, one in my craft area and another in the tool shed. It doesn't feel like it's made to last a lifetime, but unless you're picking up heavy objects on a daily basis I don't have any concerns with bending or breaking any time soon.