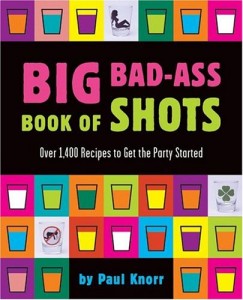 Having a party and want to include shots in the mix?
Then the Big Bad-Ass Book of Shots is the must-have book.  This big book of shots is just that – over 1,400 different shots, all neatly tucked into a small but thick book for easy placement at your bar.
Embellished with photos of shot glasses, logos and other photos, this book is a great source for any adult party and is a lot of fun to browse through.  Pick some favorites, grab the booze to go along with them and let your guest go wild!
Reviews
this book leaves you thirsty for more 

This is a book everyone needs in their cabinet, behind their bar, and even on a coffe table. The Author does a fantastic job teaching you step by step the true way to make one kick ass shot. This book is what we all have been waiting for. Say goodbye to the Horrible, atrocious, ghastly, repulsive shots, Say HELLO to Lip-smacking, delectable, knock you on your ass shots that leave you thirsty for more
A "Must Have" for anyone who hosts parties often 
Bought it for a friend who could really use it while on the road to share with others and expand his alcohol erudition. Not sure how far he is yet in the alphabetically-listed line up.
Easy to use – all the shot names are in alphabetical order and directions are simple. You don't have to be a certified mixologist to understand how to make them.
Choose your own adventure! 
"Pick a number, 1 through 700. Ok, 1,2 or 3?" is the game we played with this book when I gifted this to a friend at an xmas party. It's a fun book. Recipes are simple and we found some keepers pretty quickly. Also it doesn't seem to include too many rare ingredients. Instead of big, this book is actually really 'tiny' it's about 5×4 inches but really thick. There are two to three shots per page. What I like about this book versus a lot of mix drink books as that it's dedicated to shots and doesn't dilly dally with full size drinks. If your looking for organization & structure based on different types of drinks your not going to find it here. Lots of fun a great gift.