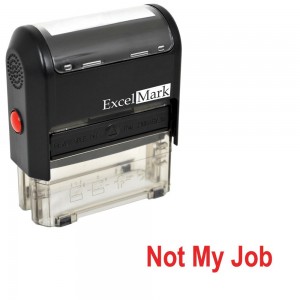 You know you want to say it.  Now you can with this official "Not My Job" self-inking rubber stamp.
Imagine the look on a coworkers face when you hand them back a report or whatever with NOT MY JOB stamped right across the middle of it in bright red ink!
As long as your coworkers have at least a modicum of a sense of humor, this is guaranteed to be a hit around most offices.  Maybe you could send a document back to your boss with this stamped on it and they will see the strong vision you have for the company.  Maybe a promotion to vice-president?  It's all possible with this stamp….
Reviews
Excellent 

Love the stamp. Very useful in the office. Comes just as promised. 5 stars all around. Would buy another again.
So much fun! 
Gave this as a gift to a co-worker. We have high stress jobs, so we love the comedic relief of a report with this stamp on it.
FIRED 
Be prepared to have some fun with this little stamp !! Tired of getting Sh*t that you don't want to do ! Stamp away til your at the unemployment line haha