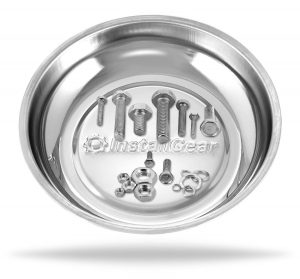 Not the sexiest of gifts but anyone working with metal parts like nuts and bolts, wrenches, or even quilting needles would love this magnetic tray.
Can attach horizontally, vertically or upside down to any metal surface and has holding power of two pounds so is strong enough to hold pretty much anything that you can fit in it.
No more lost parts with this magnetic tray and you are sure to make someone very happy with this thoughtful gift.
Reviews
Great Gift Idea 

I bought six of these magnetic parts trays for Christmas gifts.  Everyone who received one absolutely loved it and everyone uses them all the time.
Wished I had years ago 
After losing so many nuts and bolts over the years and spending countless hours searching for them or a replacement, this parts tray is like heaven.  I ended up buying three more of them so I have them around my shop, never far from reach.  This is an absolute MUST HAVE if you work on cars.
Five Stars
I use this magnetic parts tray in my job as an appliance repairman.  Never dropping screws or washers anymore and the homeowners like the fact that I'm careful with their appliances and their home.  A huge timesaver instead of having to hunt down missing parts.