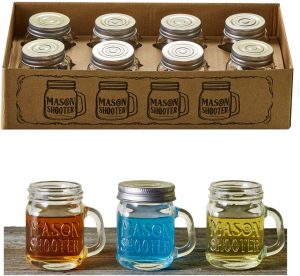 Carrying on in the tradition of cool adult party gifts, we present The Mason Shooter shot glasses.  Best selling shot glasses on Amazon!
This set of eight shot glasses features 2.4 ounce shots .  Not only do these shot glasses come with lids (most of them don't) but they also come with a molded glass handle, making them super easy to handle. These shot glasses are made of glass and are dishwasher safe.
Comes with a 100% crack-free guarantee – if any shot glass is received cracked or broken, just contact the maker and they will mail you a new one out for free, no questions asked.
NOTE: Price is for eight shot glasses.
Why do show items over ten dollars?
This item is for multiple quantities and is below $10 per unit
Due to current global supply chain issues, it is increasingly hard to find items priced so low (Look at Dollar Tree for an example)
Reviews
These were a big hit at my brother's wedding! 

I bought these to bring to my brother's wedding for tequila shots. They were a big hit! They are adorable, and with the wedding's western theme, they fit right in. We filled them half way for a shot (they're too big for a sing shot), and there was no risk of spillage when passing around the shots. After the wedding when I was cleaning up, I accidentally dropped one on the cement floor of the patio, and it survived totally unscathed. No crack, no mark of any kind. I'm impressed!
Right nice! 
The shot glasses are right nice! I'm also impressed with the owner's friendly contact to ensure that all's good (I've bought a ton of stuff on Amazon over the years, & no-one else has ever done that). At first glance the shot glasses remind me of baby food jars. However, upon further inspection it can be seen that these are better looking and better quality than that. Also, that these are made for adult beverages (no baby stuff!). They make an interesting addition to my other drinking containers.
A winner! 
Here's an example of doing good business with a good product. The glasses were reasonably priced, the communication emails from the "sheriff" were friendly and eager to please, and the glasses themselves are simply awesome. True to the photos and description, the glasses are well crafted, sturdy, and fun. I can see myself using them not only for shots and dessert beverages, but will also use one for holding toothpicks for hors d'oeuvres, and another for mouthwash slinging. Get 'em, you'll love 'em.