Public toilet survival kit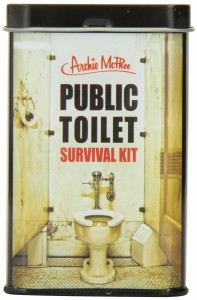 We all know someone that is deathly afraid of using a public toilet.  Let's face it – it can be as scary as a marauding group of zombies ambling towards you.  The Public Toilet Survival Kit to the rescue.
This survival kit finally comes to the rescue.  Containing all the necessary 'tools' to survive relieving yourself where many others have gone before, you or your friend can rest assured they are safe if they carry this kit with them at all times for that unexpected bathroom time outside of normally scheduled movements.
Giving this as a gift to the right person will get you the praise, admiration and adoration you so rightly deserve from choosing such a thoughtful and useful gift as this.
Reviews
great for work parties 

I got this for my work Christmas party. it was a big hit. Shipped fast, very cheap and was funny to see the person that received it's reaction.
Bought it as a gift…. 
It was a gift so I didn't open it, but the packaging is nice (tin box) and the 'instructions' on the back of the box are quite funny. I'd highly recommend it as a hoke gift for the germaphobe in your life!!!
A Funny Gift! 
purchased for my sister at Christmas time and she thought it was really funny!!! I hope she really has to use it for real…