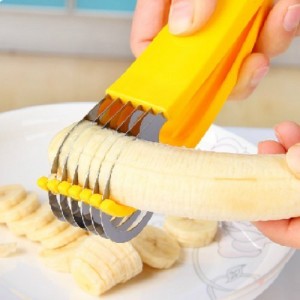 Here's another banana slicer.  One might think we are obsessed with these.  That's for me and my therapist to know.
While this slicer may not be as sexy looking as the Hutzler model, this slicer will not only slice bananas, but can slice cucumber and sausage too.  Basically anything with the rough diameter of a banana or less can be sliced with this gadget.  Maybe hot dogs for your Mac & Cheese & Hot Dogs??
Made of high quality plastic with stainless steel blades, this unit is dishwasher safe (top tray recommended).
Reviews
Five Stars 

I dehydrate banana slices and this slicer makes the job much easier and consistent.
Banana etal slicer 
Well made. Works great. Arrived promptly. Great gift. Just as described. Highly recommend. A+++++
HANDY SLICER 
My husband loves these gadgets. He uses it all the time, says it works great!