Star Wars Millennium Falcon Ice cube tray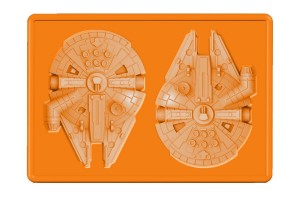 Whether you are making ice, chocolate, jello or anything else you can imaging putting in this Star Wars Millennium Falcon Ice Cube Tray – you are guaranteed of getting the coolest and most realistic form of a Millennium Falcon you can find.
Made from food-grade silicone that is dishwasher, freezer and oven safe – any Star Wars fan cannot go wrong.  Combine this with the other forms we have listed on the site and have an uber Star Wars party, or just enjoy a battle in your whiskey glass.
Reviews
Makes excellent chocolate mold 

I currently have this, Han in Carbonite, the X-Wing, and R2-D2. This is the best of the bunch. The cubes are large- I'll take one large Falcon over four small R2 units, or six mini-Han Solos any day. The ice is easy to remove without breaking any of the protrusions, which I can't say for the X-Wing or R2.
Great! 
Ordered these a while back! Awesome molds, very easy to use. We used them to make candy favors for our wedding. We mixed white and grey candy melts to get a nice shade of grey. The Millennium Falcon candy were very detailed and everyone loved them.
So awesome 
Huge nerd, this thing is absolutely awesome. I use them for scotch, they are quite nerdy and look good. Also very robust