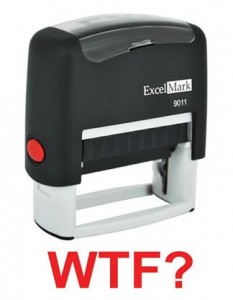 Almost anyone that works in an office can see the humor value in this WTF? Self-Inking rubber stamp.
If everyone knows you are wielding this stamp, just maybe they will write that report a little bit better next time in fear of receiving the dreaded WTF? stamp on their work.
Good for thousands of impressions and many laughs, this stamp should be placed front and center on your desk.
Perfect companion piece for the WTF Notepad
Reviews
WTF? 

Just having this on my desk at work has attracted a lot of attention. Now and then people come up to my desk to use it on their documents, normally with a story to share. It's great. Now someone needs to make a "FAIL" stamp.
Solidly made and self-inking.
Great gag gift and for fun 
My family does an exchange for Christmas, and we often bring gag gifts as well. This is perfect! I even just for fun stamped it on my forehead. My family member plans on using it at work for giggles. Great for a laugh and pranks
Best surprise present EVAH!!! 
I sent this to a friend of mine as a surprise. This was the email he sent: " absolutely love the stamp I received in the mail today. It is outstanding and I plan to use it every chance I get. As a registrar, we are forever stamping things. When I first started the job I used to laugh at the bureaucracy of it all, but then I started taking it seriously. It's ridiculous and I now have a new reason to laugh. What a great idea!"