Star Wars Death Star Ice cube tray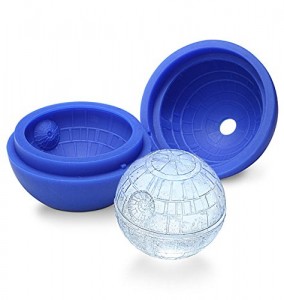 What an awesome Star Wars Death Star form!  Detailed enough to perform recon on….  This Star Wars Death Star Ice Cube Tray can be used to make – ummmm – ice, or you can get creative.
Made from heat and cold resistant food-grade silicone, this form can make awesome ice cubes but so much more.  Freezer and oven safe, you can make ice cubes, chocolate or jello forms or even bake in it.  How about a Death Star bath bomb?
At the price, it is easy to buy multiple products to stock up for the big party.
Reviews
Exactly what you expect 

This product makes pretty good Death Stars. There's a notch in the silicone, so you know you're setting it up properly. Sometimes the ice cracks, and I haven't found an easy way around it yet, but we have jokingly referred to the whole ones as Episode IV stars and the broken ones as Episode VI stars.
I find your lack of ice disturbing. 
My wife thinks I'm crazy but I love this ice tray. I have a gallon bag in the freezer full of ready made ice orbs for company or anytime I want a cool looking ice cube. And it only takes one to cool down any drink.
That's no moon… 
Perfect size for a whiskey tumbler. Only problem is that it melts. Must be caused by fluids getting in th