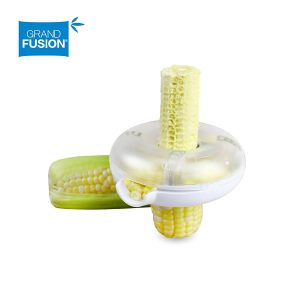 Another great low-cost kitchen gadget is this corn kerneler.  To get fresh kernels of corn off the cob simply, easily and with minimal waste, just set the cob of corn upright, put the kerneler over the narrow end and press down.  The stainless steel blades will easily cut the kernels off the cob and into the basin of the tool.
The basin will hold about two ears worth of kernels.  Just pour the kernels into a bowl or pot and carry on with more ears of corn.
In the area I live, corn is abundant and cheap in late summer/early fall.  This year I plan on getting this corn kerneler and making my own packages of freshly frozen corn.  Super easy, cheap and delicious!
Reviews
Very Easy To Use And Effective 

My wife just had dental work done, and won't be able to eat corn on the cob for another year. She loves this.
We actually found an antique one that had belonged to her parents, but this one was so much easier to use, and keeps most of the corn from making a mess.
Three things to keep in mind with this:
1. It's a little difficult to clean. There are a lot of nooks and crannies inside of it where the corn will hide.
2. If the cob is huge, it won't fit. So far, it has fit 23 out of 24 that we have tried. One ear was just too big.
3. My wife originally had a different time opening the tool. After she'd done it a few times, she does't seem to have that problem any more.
4. I keep a silicone cutting board underneath when using it, as it can be messy. Corn sometimes will end up on the counter instead of in the tool.We're both very happy with this tool. It's cheap, it's pretty to easy to use and it's very effective. You get the great taste of corn on the cob without the effort of eating it off the cob!
Amazing! 
I love this product. I love corn on the cob, but I'm not fond of eating it off the cob, so I've spent years just using a knife to cut the kernels off. This product works like a charm. It cuts all the kernels off with ease and cleans up so easily. If you love corn on the cob, but not eating it off the cob, this is the product of you.
Best thing ever! 
This is the best product since sliced bread, I love corn on the cob but it's such a hassle this worked great it all comes right off the cob pour it out and then on to the next one. After take it apart and wash in hot water it could not be easier.