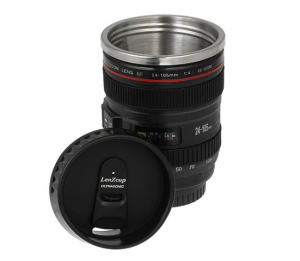 Pretty much everyone carries a camera around with them now in the form of a smartphone.  But thankfully, there are still people that take real photos with a real camera.  No selfies!
If you or someone you know is an avid amateur or professional photographer, then this may just be the unique gift you have been looking for.  A thermal travel mug in the shape of a 24-105 mm camera lens.  This travel mug is 11 ounces in size and features an insulated stainless steel interior.
Reviews
Love This Camera Lens Mug

I love this camera lens mug. It not only looks like an actual camera lens, but it has all the characteristics that a lens has. The inside is made of stainless steel so it keeps your coffee/ hot beverage warm and has a no spill lid that works perfectly. I purchased this because I am a camera nut and thought this was very clever. I also have some friends that have the same passion as I do so I will probably order a couple more for gifts, which is another great point, this lens mug comes in a nice box to gift wrap or give to someone.
He loved it. Very clever idea 
I gave this to a friend who is a professional photographer. He loved it. Very clever idea.
Nice Cup 
We bought two of these as gifts for photographer friends. The quality of the materials used in this cup are great.