Backpacking/Survival canister stove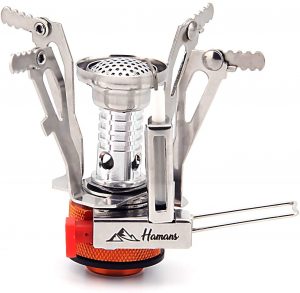 Super light and compact outdoor stove for use with commonly available canister fuels.
This is the ultimate gift for any avid outdoorist that loves to hike, backpack or go on survival treks.
Weighing just under four ounces and measuring just 7 x 7 x 7.5 cm (less than 3 inches) when unfolded, this will fit and easily be carried in any backpack.
Rated at 3500w, this super stove can boil a liter of water in about five minutes.
Reviews
A++ 

The best purchase I have made. Saved mine and 3 other lives in tandem with the nesting cook set purchased. Stuck in a canyon without fresh water, we were left with boiling stagnant puddle water to make the climb out. From filling pot to boil, cooling pot down and filling camelback. 15 minutes per liter, about 5 minutes to boil at about 4500′ alt. Boiled about 4 liters per person (16) with no fail. The guys gave me hell before the trip, for how small it is, they are no longer skeptics.
Awesome Pocket Stove to use with mixed Fuel Canisters!
I will start by saying that these are some of the cheapest (as far as price goes) pocket/rocket stoves that you can find on the internet… but I ordered my first one about 3 years or so ago, then turned around and ordered 4 more stoves to give to some of my youth guys from church who decided to hike on the Appalachian Trail with our church guys a few weeks ago.
This stove always worked perfect with my Coleman Butane/Propane mixed fuel, but I decided to get some MSR butane/propane mixed fuel canisters to use on our trip. There were some issues that came about with them, as far as the fuel spraying up and the flames not staying consistent while cooking… but I personally feel it was more the MSR fuel and not the stove. We had a couple guys who said that their stove wasn't working at all, so they used one of the other guys' stoves instead (same style stove though). But after examining the "non-working stoves", I found out that it wasn't really the stove itself, but that with the MSR canisters, you had to tighten them down a bit more to get them to work. Once tightened down a little tighter, the stoves worked like a pro again. I don't really know if the rubber gasket prevented it from seating all the way with the MSR canister or not, but if it's tight down, it will work as it should.
The other issue that happened was that I screwed my stove a little too slow I guess while I was talking and some of the fuel sprayed out all over my arm & chest. Again, I really think it was the MSR fuel since the Coleman fuel never gave me this many issues… but I just learned that I need to be a bit more attentive while joining the stove with the fuel canister.
Very well worth the cost, all worked perfectly. 
I love these little camp stoves! I was so happy after I bought one that I ordered 2 more. You can find these from different sellers from $6 to $10 and they are well worth the money, and more. No problem with any of mine, the flame adjusts from simmer to burn it quick. Will boil 1 cup of water in about 3 mins or less at 5000 feet. I have a back pack cook set with 2 pots and a fry pan that work perfectly with these. The set is not large but they are quite stable sitting on this stove, and the flame can be adjusted to each piece depending on what's cooking.
Someone mentioned that the flame adjuster is not "triangle" but rather "looped". My first is triangle and the other 2 are looped, but functionally they are identical. Not really a mentionable item, just thought I would.
I like the plastic cases, helps keep the stove from moving around or having something set on top of it in the backpack or camp kit. It also keeps away dirt and grit that might cause a problem.
EDIT: After using these on a couple of weekend camp outs I have come to love these little things even more. One 260 gram can of gas has lasted through 12 meals consisting of boiling water for rehydrating food, coffee, hot chocolate, even a stir fried dinner for 2. When I used all three at the same time (three cans of gas) I was able to cook up meals for 4 in a small stainless steal backpack cook set. Of course, everyone didn't eat at the same time, but so what? We all ate quite well for 5 meals over a weekend. And coffee/tea/hot chocolate was always available on a damp cool/cold weekend in the Rockies. Can't say they'll last a lifetime, but ordering 5 more to stash away and give as gifts. Of course, I'll test them all beforehand to make sure there are no problems, but I've been fortunate that there hasn't been a single issue so far.