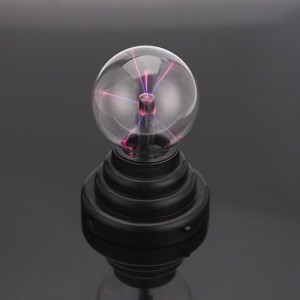 Most of us have seen a USB plasma ball before but never have I seen one so inexpensive and powered simply by a usb cable attached to your computer or laptop. Or you can it be powered with 3 AAA batteries if you don't have a USB port handy.
I remember these being called a "Tesla ball" but it's the same thing and same idea.
Cool colored bolts of electricity randomly move around inside the glass globe.  Touch it with your fingers and watch the electric bolts follow your fingers everywhere.
Runs silently and uses little power so you can run this soothing gizmo anytime you run your computer or laptop.  Great gift for almost anyone but especially for kids, geeks and tech lovers.
Reviews
USB Plasma 

This product full-filled my expectations.
Just uses the power from a USB port and has many arcs on its own. Can pull 2 or 3 nice bright ones with fingers touching it.
However you Gotta remember tho even the large balls are not bright in a lit room. I placed mine under the shelf in my work cubicle and it catches the attention of many people that come to my desk and its cheaper than the last picture frame I bought too ????
I love it for my usage.
Great little plasma ball 
First, the ball is made of GLASS, as it should be to hold the pressure of the inert gas inside. It is a very cool little plasma ball for your desk, or just about anywhere you have USB power. It was such a hit the first few days I had it that it collected some finger prints. Just a forewarn, the ball itself more or less rests on the base so when I went to clean it, it fell off onto the floor…glass under pressure…need I say more? I will definitely get another though. For the price, you can't go wrong.
One of my favorite USB knicknacks 
I love this little accessory and it works great. Although the description was off slightly for mine, it does not accept batteries, which was not a problem for me, as I never intended to use batteries with it. For its size it certainly isn't plasma "anemic" and lights up with clear arcs much like it's larger cousins. It very attractive to look at. If you wanted to you could power this with an AC 5v 500mA adapter as a nightlight for the kids or a interesting bedside lamp. I have mine perched atop my computer, and it looks fantastic. I highly recommend it