Transformer USB Flash Drive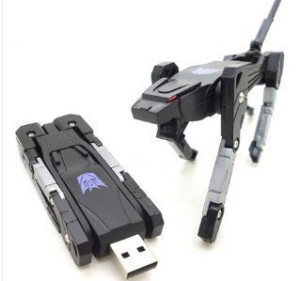 A USB flash drive that is also a transformer.  Can you get any geekier than that?
This is arguably not the best quality product ever made but it's dirt cheap for what it is and for any Transformer lover out there, this is definitely worth it.
There are various sizes available, from 4GB up to 32GB
Reviews
Great Gifts  

I liked the first one so much, ordered a second one. Considering ordering a third one. All used as gifts for teenagers! Only wished instructions for use was included in package. I had seen it folded out as well as closed so had foreknowledge of it but feel a "picture would be worth a thousand words" included in the gift.
Awesome 
It's an awesome product some of the joints were a bit loose when u first opened the package and transformed it from flash drive to ravage mode but a simple screwdriver will fix that problem
My 11yr old loved it! 
My son needed a USB Drive for school and this is the one he liked. Its been over 5 months and it still works great. He uses it often and works great for what he needs it for.