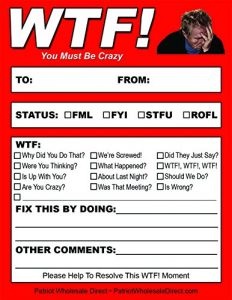 Dealing with the public is fun frustrating.  Anyone that has done it is glad they don't have to anymore.  Anyone that still does it – well, it sucks to be you. That's where the WTF notepad comes in.
If you are bewildered, confused or otherwise just don't know WTF is going on, then this is the perfect notepad  for you.
Work with a cranky old receptionist like I do?  Drop this on her desk before she starts her day and see if she smiles just a little.
Reviews
Incredibly useful… 

This pad is really a hoot. The pad is 4 x 5.2 x .2 inches, so a little smaller then you might expect. However, the fun you will have with it, is very large!
I have been giving these out to friends who I know will love them. In stressful situations, like in a mediation, I will slip one to an attorney who will just start to hoot out loud. I love it! Great way to bring down the tension in a room.
You can even use it while you are on the phone and just check the boxes you would like to ask the person on the other side of the line, but can't. ????
gag gift for the boss 
we give fun gifts at the office during the holidays, this one fit the bill for the boss lady…she gives them out…funny!
Great communication tool 
Funny is good, and sincere is better: this gem combines them both. We use them in our family to apologize all the time (great in tandem with the Knock Knock Here's Some Advice pad), and the whole of our relationships at home has shown great improvement and resilience.