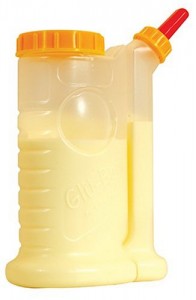 For any avid woodworker in your life, this Fastcap Glu-bot glue bottle is a GREAT gift idea.
Not many people would think that a glue bottle design could make much of a difference in a hobby or trade but that couldn't be further from the truth with the Glu-bot.
I have personally owned two of these for a few years now and would never ever go back.  So many features of this glue bottle stand out:
Non-clogging (mostly) – when pressure is released, the glue in the small tube pulls back from the rim, lessening the chance of hardening.
Glue from any angle: Due to how this bottle is designed, you can squeeze and glue from literally any angle.  Great for tight spots.
Replaceable tips and caps: Stuff happens.  Things go missing.  No matter how clean your shop is.  Instead of throwing the bottle away, you can order new caps for a fraction of the price.
I can't say enough good things about this product.  If there is one gift you buy for the woodworking hobbyist or carpenter in your life, this should be it.  Two would be better.
Reviews
a must tool for trouble-free glue-ups 

I must have made some 20 tabletops by now, and one thing I have learned: Gluing is serious business that can seriously impact on the quality of the finished piece. So when gluing planks together, I cut a glue joint using a perfect edge guide (Eurekazone), get the best wood glue (type III Franklin) and whip out the Glu-Bot.
What's the big deal about the Glu-Bot? Fast, even dispensing. You have to get that glue down and spread as fast as possible, and clamped in place. I like to have 4-5 planks glued and clamped 20 minutes from starting the job. If you have glue setting up before clamping, it will keep your joints from being tight. The Glu-Bot is essential to getting an even coat down, fast.
Another advantage over the bottle your glue came in: this thing works at all angles. Sometimes you need to put things on an edge or even upside down, and it's a lot easier to turn your bottle than your piece.
You might also consider the brush you will need to spread the glue. One thing to get the glue down, quite another to spread it quickly. A 1″ paint brush works pretty well.
Another good thing: replaceable lid, replaceable spout, replaceable cap. Yes, they do wear out, or get lost. Nice that you don't have to buy a whole new bottle. I would suggest you buy the inexpensive spares with your original purchase.
This bottle cleans up pretty easily. Sometimes the top lid gets stuck, but I've always managed to pry mine off, occasionally using a pipe wrench. It's one tough bottle! Have had it for years, and wouldn't glue without it.
Best bulk glue dispenser on the market 
In my shop I use a lot of Titebond yellow glue, which I buy in gallon bottles. The 16 ounce Glu-Bot Glue Bottle is an all-position dispenser; there is no necessity to tilt or invert the tip. Because the glue is discharged from the smaller diameter parallel cylinder, it will not dry out in the dispenser (even when you forget to replace the red cap) because of its smaller exposed surface area. The bottle comes with two different dispenser tips. The most practical is the flat tip, the opening size of which is determined by how far back you cut off the tip's end. The other tip has a tapered needle point for more precise applications. The bottle has a large mouth filler cap, which is a must when refilling from a gallon bottle. Fortunately, each piece of the Glu-Bot can be ordered separately. Glu-Bot also makes a smaller "mini" version of this dispenser, which works equally well. There is nothing negative about this product!
No more glue frustrations!!! 
In a word "WOW!!!!" Everything it promises to be. I am a specialty trim guy and I've been regularly frustrated by my glue bottles. This one does not frustrate me. I bought three at once and I'm glad I did – it works and makes my job so much easier. I can actually glue something rather that fiddling with the glue bottle trying to get glue out of it.