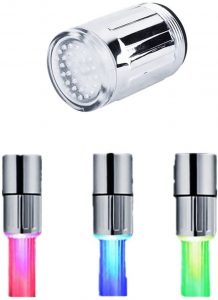 Here is a package of three temperature sensitive LED faucet lights.  Simply screw it on to your existing tap, and as soon as you turn on the water, the leds light up as blue (cold water) or red (hot water).  How neat is that?
It truly serves no purpose in life, but does it really have to?
Like one review below mentions, this is a good way of knowing if your guests washed their hands after using the restroom.  If they don't comment on the lights on your tap, that's a good sign not to shake their hand at the end of the night!
NOTE: Price is for a package of 3
Reviews
Fun and Information

We installed this in our guest 1/2 bath downstairs. It's fun to hear the astonishment of guests behind closed doors as the sink lights up with blue and red lit water. What's even more interesting is when the guest says nothing. If they're young enough we tell them to go back and wash their hands, if older, we just don't offer to shake their hands.
Interesting Twist on Lighting
it's a pretty neat little kitchen add on, but the only thing i want to point out is that it does change the actual pressure of your water flow. we used to have a connection that 'gushed' the water out and now with this attachment, it's more of a 'flow.'
not a biggie though, you can always add a finer 'mesh' attachment and get it back to how it was ????
great for kids who aren't careful enough about putting their hands in water!
Five Stars
we like fun gadgets and we love this. Works real well been very happy with it.