I love gay porn magnetic bumper sticker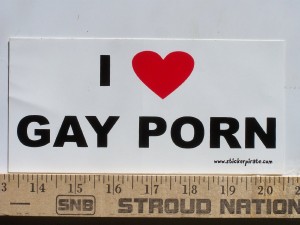 This I love gay porn magnetic bumper sticker is a perfect prank or gag gift for the lovable homophobe in your life.
Give this magnetic bumper sticker as a gift and watch their face as they open it.  Or better yet, stick it on their bumper and wait (hopefully days) before they notice.  Imagine the honks and waves they will get when driving around with this bad boy firmly attached to their bumper!
I wonder if George Takei would find the humor in this?
Reviews
Very Funny! 

I decided to get my dad a special gift for him to show how much he "loves" the gays.
So one morning before he went out I decided to secretly put it on the back of his truck, he must have loved this thing considering he drove all over the place… Even went to the doctors and food with it on! He was gone for a pretty long time, I'm sure many other people loved the support too.
I was worried that it would be stolen by the time he got back, but it did just fine. Many people must have been happy he showed his support!
Eventually I decided to tell him so he wouldn't go to work with it on and get in trouble for it. Needless to say he's going to get me back one day, but I'll be prepared!
Magnetic – Not Permanent – My Friends Love Them – They all Have Them on their Cars! LOL 
I'm not too big of a fan of these, but apparently my buddies are – as I see them on all of their vehicles, LOL. They're great because they are magnetic – and not permanent. A fun method to gift a "Macho Man", LOL
 If you're into pranking then this is a good one. 
The gift that kept giving! I attached to a schmuck's car at work and he was driving 1/2 hour on the freeway to and from work for 3 days before noticing!!! OMG it was so hilarious, I actually got pictures of him driving off and on the freeway. When he found it, he went and attached to my car figuring it was me. I found it before driving off, (dummy placed it on my car door), and kept it put away for 3 months before striking again! This time he drove with it for 1 day AND RETURNED IT TO ME! I placed on another guy's vehicle and that's the last we saw/heard of it. If you're into pranking then this is a good one.